First Folio's 26th & FINAL Season!
Ticket Prices for all shows
Preview Performances $29
Wednesdays – Thursdays $49 (Seniors $44)
Fridays – Sundays $59 (Seniors $54)
Students – $20 for all performances (full-time students, college age and below)
THREE AND FOUR SHOW SUBSCRIPTIONS ON SALE NOW!
Subscription Prices $50 – $180
All ticket prices include a 4% facilities fee for Mayslake Peabody Estate

JEEVES INTERVENES
By Margaret Raether
Directed by Michael Goldberg
Featuring Christian Gray, Jim McCance, and Lydia Berger Gray
November 2 – December 4, 2022
To open our final season, First Folio brings back our very first adventure of Bertie and Jeeves from 2008. The pleasure-seeking and marriage-averse Bertie is desperately trying to avoid his dragon-lady Aunt Agatha or "she who chews broken bottles; she who kills rats with her teeth." In tow with Bertie's aunt is Gertrude Winkleswoth-Bode, the society special Agatha has chosen to tame her wayward nephew. However, when Bertie's impecunious pal, Eustace Bassington-Bassington becomes smitten with Gertie, Jeeves sees a pathway to avoid disaster…providing they can also avoid a battle-ax Scottish uncle, Sir Rupert Watlington-Pipps. Filled with all of the sly word play and manic antics you've come to expect, this is the pitch-perfect Jeeves story we all need to escape the doldrums of our own lives.
"It's a champagne cocktail of a show, as bright and engaging as a garden party in May!"
Kerry Reid – Chicago Tribune
"A two-hour snort of pure giggle gas!"
Catey Sullivan – The Pioneer Press
"As dry as a well-made martini and equally potent!"
Barbara Vitello – The Daily Herald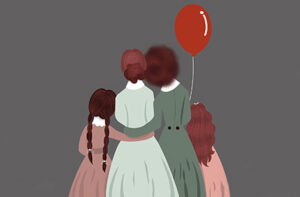 Louisa May Alcott's
LITTLE WOMEN
Adapted by Artistic Associate Heather Chrisler
Directed by Artistic Associate Melanie Keller
December 14, 2022 – January 15, 2023
Four young women, playing in an attic, inhabit the beloved Louisa May Alcott tale of the March sisters with all of the trials, tribulations, and triumphs that arise from helping to blaze new horizons for women in the 19th century. Come savor anew the tale of Jo, Meg, Beth, and Amy in this WORLD PREMIERE adaptation, written by First Folio Artistic Associate Heather Chrisler. This is a show destined to become a hit around the nation…and you get a chance to be the first audience to see it! Originally scheduled for the spring of 2020, First Folio is overjoyed to finally be able to bring this wonderful play to the stage.

AND NEITHER HAVE I WINGS TO FLY
By Ann Noble
Directed by Heather Chrisler
Featuring Artistic Associates David Rice and Hayley Rice
January 25 – February 26, 2023
In 1950's Ireland, family means everything. So when Eveline Donnelly abandons her dream of a university education to care for her widowed father, it seems only right and natural. But as she watches her younger sister prepare to leave home, a visit from her mother's ghost makes Evie begin to ask, "When is it my turn?"
"A wonderfully accessible and tremendously vibrant drama about love, loss, and family ties, Noble's play recalls the anguished beauty of Williams' The Glass Menagerie.'"
Chicago SunTimes
"There are no high-flying theatrics or overwrought scenes, only blissful storytelling that triggers one's innermost longings, and the hearty Irish folk humor blends effortlessly with the glorious poetry of Noble's words."
Chicago NewCity
"A stunning display of fantastic writing, the story of the play winds and trips through a masterfully crafted labyrinth of complicated relationships; it was a breath of fresh air, and I cannot recommend it highly enough."
LAsplash Magazine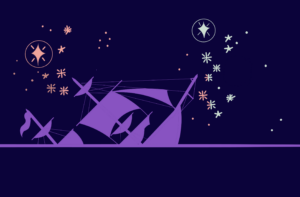 TWELFTH NIGHT
By William Shakespeare
Directed by Hayley Rice
Featuring Artistic Associate Heather Chrisler, Joe Foust, Melanie Keller, René Ruelas, Nick Sandys
March 8 – April 9, 2023
When Viola is shipwrecked on the shores of Ilyria, she must re-invent herself as a man in order to survive. When she falls in love with Duke Orsino, however, Viola must choose between love and loyalty. Navigating the shoals of comedy presented by Sir Toby Belch, Sir Andrew Aguecheek, and the malevolent Malvolio, Viola reaches the port of true happiness in Shakespeare's sweetest romance.