Subscriptions
Because of the changes we have had to make to our upcoming season (postponing some productions until 2021-2022), we are no longer selling traditional subscription packages at this time. Instead, we are offering 2-show and 3-show passes, which have the flexibility our patrons need at this time. 
CLICK HERE for more information and to purchase passes.
2 and 3 Show Passes Will Generate the Same Subscription Advantages
Subscribers save up to 35%
Subscribers get priority seating
Can't make your original date? Subscribers get free ticket exchange.*
If friends want to join you, we'll make sure you're seated together
Subscribers get first notifications of special events
*Exchange must be requested at least 72 hours in advance and is subject to availability. Upcharge will apply to any exchange that moves a ticket to a different pricing category.
First Folio's 25th Season
Ticket Prices for all shows
Preview Performances $29
Wednesdays – Thursdays $39 (Seniors $34)
Fridays – Sundays $49 (Seniors $44)
Students – $20 all performances (full-time students college age and below)
Subscription Prices $42 – $98
All ticket prices include a 4% facilities fee for Mayslake Peabody Estate
2 and 3 Show Subscriptions Now On Sale
THE JIGSAW BRIDE: A Frankenstein Story
A World Premiere by Joseph Zettelmaier
Directed by Hayley Rice
Featuring Artistic Associate Heather Chrisler
PRODUCTION POSTPONED UNTIL 2021-2022 
DATES TBA
From the pen of Joseph Zettelmaier, who brought you The Gravedigger and Dr. Seward's Dracula, comes another eerie and suspenseful tale. 100 years after the death of Victor Frankenstein, noted scientist Maria von Moos decides to excavate a ruined castle deep in the Geneva woods. In her search to uncover one mad-man's secrets, she makes a startling discovery that will take us from the Swiss Alps to Vystario's Menagerie of the Macabre and deep into the very soul of humanity. Inspired by the work of Mary Shelley, The Jigsaw Bride continues the electrifying legend.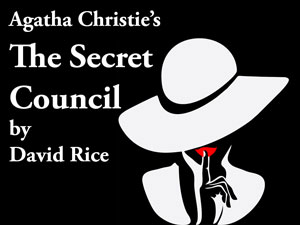 Agatha Christie's
THE SECRET COUNCIL
A World Premiere by David Rice
Directed by Brigitte Ditmars
Featuring Artistic Associate Melanie Keller
PRODUCTION POSTPONED UNTIL 2021-2022 
DATES TBA
Thrill to the first adventure of Tommy and Tuppence, Agatha Christie's most dashing and romantic sleuths. In the wake of the Great War, England finds itself under attack from a Secret Council of its enemies, who are plotting to undermine and subvert one of the bastions of freedom. Can Tommy and Tuppence thread the maze of mysteries and murders to save Great Britain from the Bolsheviks? As they follow the trail of clues that lead all the way back to the sinking of the Lusitania, Tommy and Tuppence are drawn inexorably into a web of both love and deception, where they can trust no one but themselves.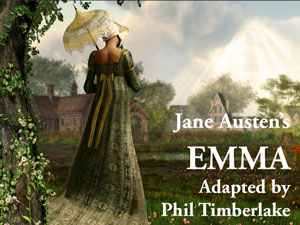 Jane Austen's
EMMA
Adapted by Phil Timberlake
Directed by Elise Kauzlauric
Previews: March 24th – 26th
March 27th – April 25th, 2021
If the current health crisis requires it, this production will be postponed until the 2021-2022 Season.
Come revel in one of literature's most joyous & light-hearted romantic comedies, as young Emma Woodhouse seeks to prove her skills at matchmaking. Good-hearted Emma cannot resist inserting herself into the love lives of her neighbors, leaving a muddle of passions and a tangle of heartbreak in her wake. Can even her dearest friends and family help Emma swallow her pride and learn to value the needs of others over her own desires? This is Austen at her most delightful!
OUR SUMMER STAGE
Last year we told you our plan was to return in the summer of 2021 with a new outdoor stage. However, for a variety of reasons, we have decided to extend the summer hiatus indefinitely. It is our belief that by focusing on our indoor mission of presenting the finest in theater, with an emphasis on literature-based works and a commitment to at least one world premiere production each season, we can strengthen First Folio and keep it strong and viable both artistically and economically well into the future.