Written by Margaret Raether, based on the works of P.G. Wodehouse
Directed by Alison C. Vesely
Featuring
Christian Gray, Jim McCane, Melanie Keller, Kevin McKillip, Jeannie Affelder, and James Leaming
Performed January 27, 2010 ~ February 28, 2010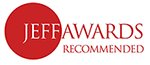 ADDITIONAL PERFORMANCES JUST ADDED DUE TO POPULAR DEMAND!
"As delightful a respite as one could hope for in the gloomy days of winter…Vesely's staging fires on all cylinders." – Chicago Tribune★★★½
"A funny, thoroughly charming production….the return of Jeeves is as welcome as a reunion with old friends." – Daily Herald ★★★½
"The second installment into Wodehouse land is every bit a splendid confectionary treat…twice as stylish and exquisitely executed…a production this fine is too good to let slip by." – SteadstyleChicago.com★★★★
The Story
When Bertie gets himself into another scrape, Jeeves must resign his service and re-invent himself as something other than Bertie's Gentleman's Gentleman. This sequel to First Folio's hit production of Jeeves Intervenesfeatures the return of Christian Gray as the lovably loopy Bertie Wooster and Jim McCance as his unflappable butler Jeeves.
Wednesday and Thursday shows:  $28/Adults, $23/Students and Seniors
Friday/Saturday/Sunday shows: $30/Adults, $25/Students and Seniors
The Artists
Alison C. Vesely, SDC+ – Director
Matthew Kurtis Lutz – Stage Manager
Angie Miller+ – Scenic Design
Elsa Hiltner+ – Costume Design
Michael McNamara, USA – Lighting Design
David Rice – Sound Design
The Cast
Christian Gray*+ as Bertie Wooster
Jim McCance* as Jeeves
Melanie Keller*+ as Madeline Bassett
Kevin McKillip*+ as Gussie Fink-Nottle
James Leaming* as Uncle Tom/Anatole the Chef
Jeannie Affelder as Aunt Dahlia
* indicates member of Actors Equity Association + indicates First Folio Artistic Associate
The Photos
Click on the thumbnails below to view the full-sized images from Jeeves in Bloom.