by Tom Stoppard, with music by Christopher Kriz, lyrics by Tom Stoppard
(Based on "Play at the Castle" by Ferenc Molnár)
Directed by Alison C. Vesely
Featuring Christian Gray, Kevin McKillip, Gail Rastorfer, David Rice, René Ruelas, and Alex Weisman
Previews Jan. 29, 30, 31
Feb. 1 ~ March 2
Humor on the High Seas!
If you liked Bertie and Jeeves, you'll love Rough Crossing!
"inspired lunacy handled with master clownery…laugh-out-loud hysterical!" – Highly Recommended – Chicago Sun-Times
"Alison C. Vesely's sharply timed staging boasts a first-rate cast of clowns…a welcome comedic voyage." ★★★½ – Chicago Tribune
"Deliciously madcap…this funny, fast, physical production comes with some terrific special effects!" ★★★½ – Daily Herald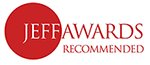 The Story
Aboard the S.S. Italian Castle on its way to New York, two playwrights struggle to finish their latest musical hit as they maneuver around a jealous composer, the screen star he loves, and her lothario leading man. Aided by the most inept steward ever to tread the deck of a cruise ship, the trio must save both their show and their stars from disaster.