Who's selling what—and who's buying it?
By Joseph Zettelmaier
Directed by Alison C. Vesely
WORLD PREMIERE
Featuring Melanie Keller & Tyler Rich
Previews March 26, 27, 28
March 29 ~ April 27
"Zettelmaier's plays are infused with an idiosyncratic sense of humor, but he never shys away from darker emotions."– American Theatre Magazine
" Under Alison C. Vesely's streamlined direction…Salvage provides some thought-provoking moments about how we decide what and who we keep or throw away in our lives." ★★★ – Chicago Tribune
"the play directly and indirectly touches on the psychology of collecting things…the nostalgia…the value. Why do people pay exorbitant prices for a child's 1960's lunch box? But more importantly, what are the values of those whom we say, we love?" Highly Recommended – ChicagoCritic.com
"Vesely has hit the nail on the head with her interpretation of the script." Highly Recommended – Around the Town Chicago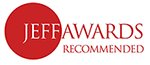 The Story
The shy owner of a collectables store in Detroit finds his staid existence turned topsy-turvy when a mysterious women enters his life with valuable items that just should not exist any more.