A Digital World Premiere
MAY 11 – 23, 2021
By KRISTINE THATCHER
with material by LARRY SHUE
Directed by Leda Hoffmann
STREAMING ONLINE
Come join Walter and Bob, two journeyman actors, on New Year's Eve, as they have a couple'a drinks in Finnegan's Roadhouse while they wait to see if Bob's mysterious date will show up. As they wile away the time with Robin the bartender and Carl the piano player, they enjoy a song or two and share some pithy insights about waiting for life, waiting for love, waiting to tread the boards again and…WAITING FOR TINA MEYER.
Running Time: 65 minutes
Music & Lyrics to "King Richard De-Terred" by Larry Shue (Arrangement by Andrew Callis)
Original Sound & Music Design by Christopher Kriz°, USA
Music Direction by Christopher Kriz°, USA
Video Producer – Bobby Richards
Stage Manager – Miranda Anderson, AEA
Featuring Tom Hickey, Dan Klarer*, Renée Lockett,
Tina Muñoz Pandya, and Kevin Tre'Von Patterson
*Member Actors' Equity Association
TICKETS ARE AVAILABLE ON A "PAY WHAT YOU CAN" BASIS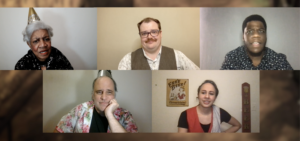 Located outside the United States?
As long as you can purchase tickets on our site and watch videos on Vimeo, you'll be able to enjoy this streaming production. Just be aware that all times posted are for United States Central Time Zone.